Add to your enjoyment of the art of Hilario with his books and show catalogs.
Get an inside look at his creative process when you read his philosophy of abstract art in Chaos On The Canvas – The Art of Hilario.
See images of his some earliest work and read his description of how his artistic vision was born and evolved in Hilario – Twenty Years An Artist.
Gain insight to his vision of his art through his show catalogs.
And always trust that your purchase of Hilario's books and publications are made through a secure link from this website.
Scroll down to view a specific publication or click here to visit Hilario's Bookstore at Blurb.com.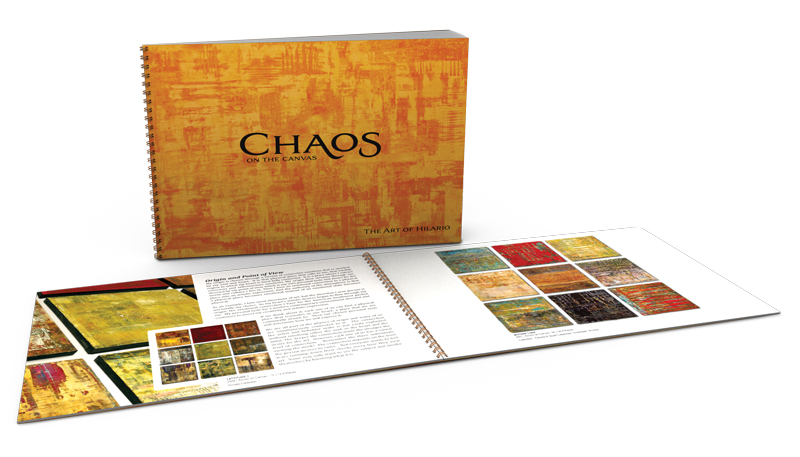 CHAOS ON THE CANVAS – THE ART OF HILARIO
Hilario's first book translates why he paints into how he paints. And it answers a question often posed to him by his many fans. Why, when one views a painting by Hilario, does one feel a sudden emotional connection to it and to him? In his book, he explains how he makes this happen.
He says; "As a self aware artist, I work from my soul, heart, and mind…and my mind is the last tool I need to create my art. My soul allows the ethereal chaos of my spirit to emerge; my heart allows my humanity to surface; and my mind channels awareness of my soul's and heart's expression into my art."
The book features more than 60 pages of text combined with 35 full color images of Hilario's work in an oversized lay-flat format. It allows the reader to explore the vision, depth and theory behind some of his most stunning works. Hilario published this book in April, 2009.
HILARIO – TWENTY YEARS AN ARTIST
In celebration of the twentieth year since his artistic epiphany at Monument Valley in the Four Corners region of the American Southwest, Hilario created a book featuring images of his most stunning work. Selecting from the more than 1600 original works he has created, the book showcases his art from the very early years into 2014. The book includes his narrative description of how his artistic vision was born and evolved.
135 Pages with 193 Illustrations in Full Color. Hilario published this book in August 2014.