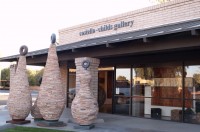 Costello-Childs Contemporary exhibits the works of emerging and mid-career artists of regional, national and international note. The gallery features works in various mediums that include paintings, works on paper, photography, and sculpture, among others. Costello-Childs is a full service gallery offering art consultation, on site presentations, project specific commissions, custom framing, delivery and installation. The gallery focus is to serve the needs of the beginning as well as the established art collector and to provide the design industry with quality works of art for residential, commercial, corporate and hospitality projects.
The gallery was opened in 2007 by Michael Costello and Daryl Childs who combined 50+ years experience in the art world, working in various aspects of the arts that included creative, educational, administrative, curatorial and directorial positions. They brought to their gallery a love of art and design, plus a belief in the power of developing and maintaining enduring relationships with their artists and with their clients. Today, the gallery is owned and managed by Michael who is assisted by his son, Jesse. The gallery's approach is relaxed, personable, perceptive and focused towards being one of the country's premier contemporary art venues.

Costello-Childs Contemporary is located in the Scottsdale Design Center in downtown Scottsdale. The gallery began exhibiting Hilario's work in 2009.