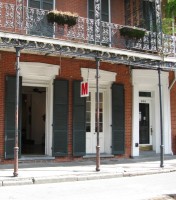 M contemporary of New Orleans exhibits a sophisticated mix of contemporary paintings, works on paper, glass and ceramics by established regional and national artists. Technical excellence, rich color and originality unite imagery ranging from figurative and landscape to pure abstract.
M contemporary is Michael Matassa's new gallery in New Orleans. The gallery is located on Royal Street, the destination for art in the heart of the French Quarter and just east of famous Bourbon Street. The gallery is on the ground floor of a classic French Quarter building with large windows, high ceilings, hardwood floors and period details.
Michael Matassa has exhibited Hilario's work since 2008, initially at his gallery in Santa Fe and now at his new gallery in New Orleans.